New mortgage data released by CMHC
8/14/2017 | SHARE
Posted in Mortgages and Real Estate by Forest Hill Real Estate CENTRAL| Back to Main Blog Page
New mortgages continue to grow in Canada, according to a new report.

There were just over 1 million new mortgage loans funded in Canada last year — up 1.4% year-over-year, according to the Canada Mortgage and Housing Corporation.

Of those new loans, 39.6% were for new-owners and 9.5% were for home owners moving to a new home.

"From 2015 to 2016, the number of new mortgages extended to new owners in Canada declined by 1.3% and the number of consumers refinancing their existing mortgage for a larger amount increased by 3.8%," CMHC said in the report. "The growth in refinanced loans in Vancouver and Toronto and their surrounding areas implies that existing homeowners are leveraging larger amounts of home equity."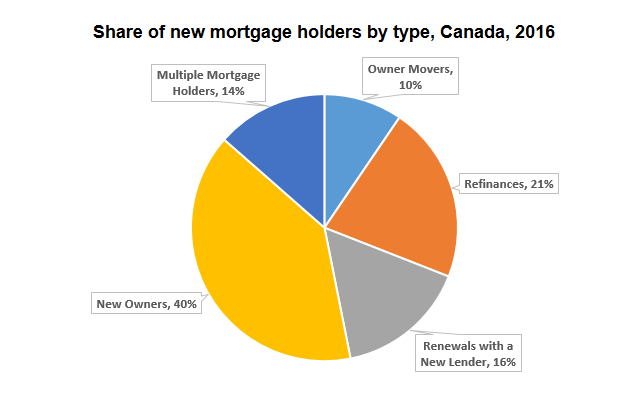 New mortgage loans were supported mostly by existing owners who refinanced or moved their existing mortgages to new lenders. That segment comprised 21.4% (or 219,897 total loans) of new mortgages that were funded for owners seeking larger mortgage amounts.

"British Columbia and Ontario are the only provinces to record growth in almost all types of mortgage categories, with refinances being among the fastest growing category in both provinces," CMHC said. "In Ontario, refinance activity was especially concentrated in the Census Metropolitan Areas (CMAs) bordering Toronto, including Hamilton, Oshawa, Barrie, and St. Catharines- Niagara. All of British Columbia CMAs recorded very strong double-digit growth in refinance activity and large increases in the number of consumers with multiple mortgages."

Meanwhile, Alberta, Saskatchewan, and Newfoundland saw significant declines in purchase loans.
Canada, CMHC, Mortgage Consumers, Mortgage Industry, Mortgage Trends, Mortgages & Real Estate