Canadian homeowners trim spending on home renovations in 2018
6/1/2018 | SHARE
Posted in Home Owners by Forest Hill Real Estate CENTRAL| Back to Main Blog Page
While nearly half (45 per cent) of Canadians plan to renovate their home this year, spending is down 7 per cent to about $11,000 -- its lowest in five years—as more homeowners focus on home maintenance and repairs, finds the annual CIBC Home Renovations Poll.
"Canadians continue to see the value of investing in their homes, but they're taking a very practical approach by focusing on lower-cost projects this year," says Edward Penner, Executive Vice-President, CIBC Personal and Small Business Banking. "No matter how big or small the project, your first step is to figure out what's needed, what you can afford and how you're going to pay for it so you can enjoy your space without the worry of overspending and unnecessary debt."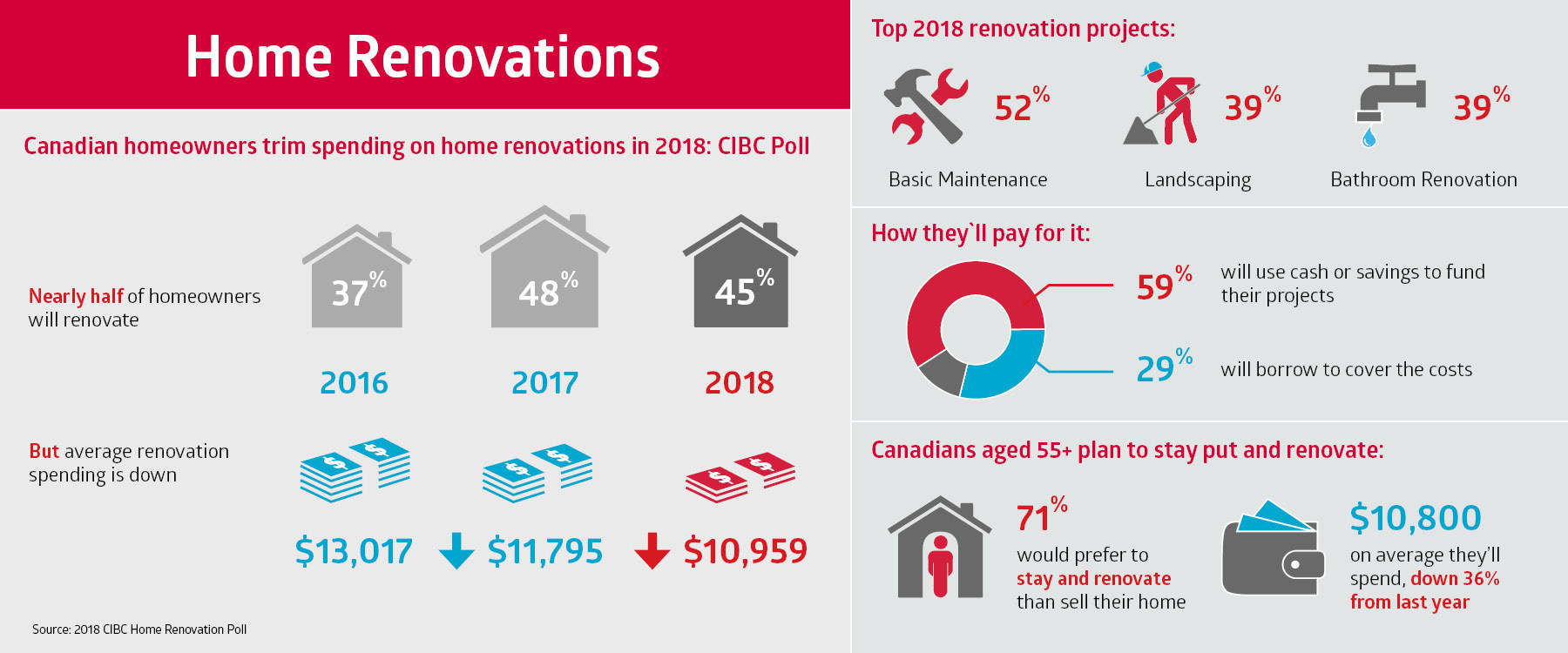 Key poll findings:
45 per cent of Canadian homeowners intend to repair or improve their home this year, compared to 48 per cent in 2017

$11,000 is the average they plan to spend on their home, down from roughly $11,800 last year

Ontarians plan to spend $13,600, the highest in the country, but down from $16,000 last year
Albertans plan to spend $8,100, the lowest in the country, but up compared to $7,400 last year
Spending drops to $9,900 in British Columbia from $13,200 last year
Spending edges higher in Quebec and Atlantic Canada at $9,900 and $9,500 respectively

Top renovation projects include basic maintenance (52 per cent); landscaping (39 per cent); and bathroom renovations (39 per cent)
Majority (86 per cent) believe any renovation is an investment in the value of their home
59 per cent will use cash or savings to fund their projects, while 29 per cent will cover the costs with a loan, line of credit or credit card
Two in five (44 per cent) will cover the expense right away, while a third (34 per cent) expect it to take up to a year, and another 15 per cent don't expect to pay it off for a year or longer
Fewer big-ticket renos in Western Canada, yet few plan to stick to a budget
The survey reveals that many more homeowners in Western Canada plan to renovate this year than two years ago. Yet, their spending has dropped sharply as the focus shifts from full-scale renovations to budget-friendly fixes, such as painting, flooring and general repairs. In Alberta, although planned expenditures are up 9 per cent from last year, they're down by as much as 65 per cent from 2016 when homeowners spent on average $23,000. Similarly, in British Columbia, spending fell 35 percent to $9,900 from $15,522 over the same period.
"Staying on top of maintenance and repairs may not be as exciting as remodeling your kitchen, but these smaller projects can go a long way to brighten up your home and save you money down the road," says Mr. Penner.
The survey also revealed that while the vast majority (87 per cent) of poll respondents agree renovations can easily lead to overspending, almost two-thirds (63 per cent) of homeowners don't have a budget for their upcoming project.
"Whatever the size of your project, don't plan down to your last dollar. Be sure to allow for overages or unexpected expenses," says Mr. Penner. "If you choose to use a credit card to make purchases for your renovation to earn rewards, be sure to have a plan in place to pay off the balance, so your project doesn't end up costing you more than you plan for," he adds.
Aging boomers prefer to renovate than sell
The poll findings also show that most (71 per cent) Canadian homeowners aged 55+ would prefer to stay put and renovate their current home than sell it and move elsewhere. Boomers plan to spend about $10,800 on average, down 36 per cent from $16,800 last year, to address wear and tear primarily.
Moreover, while as many as 71 per cent of Canadians believe a renovation or home project is a great way to keep busy in retirement, almost half (45 per cent) of boomers would prefer to hire a contractor than do the work themselves.
"The decision to downsize or stay in your family home as you age comes down to how you plan to spend your retirement years," says Mr. Penner. "While downsizing may reduce your upkeep and free up funds to finance other goals like travelling, renovating your space to fit your changing needs as you age can keep you in a home and neigbourhood you love."
While federal and provincial tax incentives can help offset the cost of renovations that improve accessibility for seniors, the poll found that a third (35 per cent) of respondents aren't clear on what tax deductions or credits are available to them.
"If you choose to stay put and renovate your space, be sure to speak to your financial advisor who can help you understand what how to best finance your project within the context of your overall financial plan," adds Mr. Penner.
CIBC's Home Renovation Checklist can help homeowners with valuable tips and advice to keep their project on track.
Renovation Tips
Be clear about what will (and won't) be part of your renovation
Spend the time to research all your costs upfront and shop around for better prices
Set a budget and stick to it
Speak to a financial advisor about how to best finance your renovation and consider any tax incentives available
If borrowing, opt for a low-cost borrowing option like a secured line of credit, and make a plan to pay it off quickly by automating your payments
KEY POLL FINDINGS:
Percentage of all Canadians homeowners who plan to renovate in the next 12 months:
| | | | |
| --- | --- | --- | --- |
| | 2018 | 2017 | 2016 |
| National | 45 % | 48 % | 37 % |
| BC | 39 % | 39 % | 32 % |
| AB | 45 % | 48 % | 33 % |
| MB/SK | 43 % | 48 % | 37 % |
| ON | 46 % | 49 % | 41 % |
| QC | 46 % | 48 % | 39 % |
| ATL | 53 % | 53 % | 32 % |
Average spend for Canadian homeowners who plan to renovate:
| | | | |
| --- | --- | --- | --- |
| | 2018 | 2017 | 2016 |
| Average amount | $10,959 | $11,795 | $13,017 |
| $1 to $4,999 | 29 % | 29 % | 27 % |
| $5,000 to $9,999 | 17 % | 24 % | 20 % |
| $10,000 to $14,999 | 13 % | 12 % | 15 % |
| $15,000 to $24,999 | 10 % | 9 % | 9 % |
| $25,000 or more | 8 % | 9 % | 10 % |
| I don't know | 22 % | 16 % | 19 % |
Average spend for Canadian homeowners who plan to renovate, by province/region:
| | | | |
| --- | --- | --- | --- |
| | 2018 | 2017 | 2016 |
| National | $10,959 | $11,795 | $13,017 |
| BC | $9,879 | $13,188 | $15,522 |
| AB | $8,073 | $7,351 | $22,952 |
| MB/SK | $10,232 | $8,288 | $7,709 |
| ON | $13,603 | $15,988 | $13,878 |
| QC | $9,909 | $8,445 | $7,933 |
| Atlantic | $9,482 | $9,212 | $10,837 |
How Canadian homeowners who plan to renovate will fund their renovation projects:
| | | | |
| --- | --- | --- | --- |
| | 2018 | 2017 | 2016 |
| Cash and savings | 59 % | 67 % | 56 % |
| Home equity line of credit | 11 % | 7 % | 11 % |
| Line of credit or loan | 9 % | 10 % | 12 % |
| Credit card | 9 % | 8 % | 15 % |
| Insurance claim/pay out | 1 % | 1 % | - |
| Other or I don't know | 11 % | 6 % | 5 % |
Top five planned home renovations for Canadian homeowners who plan to renovate:
| | | | |
| --- | --- | --- | --- |
| | 2018 | 2017 | 2016 |
| Basic maintenance (including painting, flooring, general repairs, replacing appliances) | 52 % | 48 % | 54 % |
| Landscaping (including outdoor deck, patio, driveway) | 39 % | 38 % | 42 % |
| Bathroom renovations | 39 % | 31 % | 33 % |
| Replacing windows or doors | 29 % | 23 % | 23 % |
| Kitchen renovations | 28 % | 26 % | 26 % |
Source: CIBC - Consumer Research and Advice